Before I delve into the story of my morning, here is something that always makes Buster and I giggle:
And also, one more thing. I never knew straitjacket was spelled straitjacket. I have always typed "straight jacket" or "straightjacket". Apparently I'm a moron.
Ok, here we go.
After a long evening of shopping with my mother and sister (seriously, it was long. My sister hates shopping and wearing dresses, and both were unavoidable, as we were shopping for something to wear to a wedding. My mom tends to exacerbate the situation by throwing more and more dresses at my sister to try on. I am the mediator. Lucky me.), I came home exhausted. Completely drained. But lo and behold, the prized doppler had arrived!
So, I chugged two glasses of water, grabbed my aloe vera gel and the doppler, and headed into bed.
Finding a heartbeat is tough work. I think I found it at one point, after lots of searching. And you guys were right (
Lisa!
), it was soooo low. It doesn't even make sense how low. No wonder I was scared my baby would fall out spontaneously after I stopped the medicine... it's already halfway there!
Anyway, the heartbeat that I think I found averaged about 143 bpm. Which seemed low to me. My friends reassured me that it was not low, and that anything between 120-160 is normal.
Buster and I laid in bed and googled for a while. We both felt ok with the number after reading some stuff. I went to bed. He went to play League of Legends.
He came to bed at 2:00 a.m., and I woke up to pee. I couldn't fall back asleep, and terrible thoughts kept circling through my head.
What if the heart rate is low because my baby is slowly dying since I stopped my meds?
What if that wasn't the heartbeat at all, just some weird throbbing vag vein?
What if that was the heartbeat, but the baby was dying and is now dead?
Early pregnancy after a miscarriage is such a mind fuck. This shit is for the birds.
This morning, I awoke determined I would find a "better" heartbeat with the doppler. I drank my one cup of coffee (yes, I'm drinking one cup of coffee a day), took my shot of fish oil liquid (so delicious...where is that sarcasm key again?), took my prenatal, ate a bowl of Raisin Bran Crunch, and got back in bed with my aloe vera gel and the doppler.
I couldn't find shit.
Cue panic.
I just *knew* my fear from last night was true. You know, the one where I was hearing the last dying heartbeats of my baby last night, and today nothing. I just had to go off all that medicine...
I start shaking. My hands are shaking uncontrollably. I'm on the verge of tears.
I call my OB and ask for my nurse. I tell her that I'm having a freakout, and wondered if there is any way they could squeeze me in for a quick ultrasound just so I could see that my baby was still alive. After she speaks with the ultrasound tech, she tells me to come in any time today, and they will squeeze me in.
I love this clinic. The nurses, ultrasound technicians, and front desk staff are all so sweet to me. They all know my story (which is a tad disconcerting, but whatever), and they seem to genuinely care about me.
So, I hop in the shower and head to the clinic. I walk up to the front desk and sign in, and tell the woman that I really don't have an appointment time, that the u/s tech was squeezing me in. She instantly knew who I was, and asked if everything was ok. I told her that it has been going well, but that the morning had been a rough one for me, and I was freaking out. She told me she has had five miscarriages, so she completely understands. She wished me tons of luck and said that everyone in the office is pulling for me.
I sit down with tears in my eyes. I distract myself by texting a bit. Only five minutes go by before the u/s tech comes out and calls my name. I head back, and she smiles when she sees me. She asks how I'm doing, and I tell her not very well. I am starting to cry now, and tell her I'm not sure I can talk without crying.
She was so sweet, and comforting. I blubbered out a "thank you for squeezing me in" while hopping up on the table. She completely understood my (irrational?) fears, and made me feel as much at ease as I could.
She wastes no time pulling baby up on the screen. Baby has gotten much bigger! After a minute, she plays the heartbeat. I will never, ever tire of hearing that sound. 172 bpm. Phew.
I am 10w3d today, and baby was measuring 10w4d. I'll take it!
So then she spent some time (which she probably didn't really have) looking at baby. Arms and legs were in full motion. Legs were kicking, arms were waving. A hand went to the mouth. Then, the baby lifted its little butt into the air and back down! It was honestly amazing. It looks like a baby now, not a frog.
Here are some photos (which I will also add to the "
baby updates page
"):
That's a hand with fingers above the head, I'm fairly certain. FINGERS!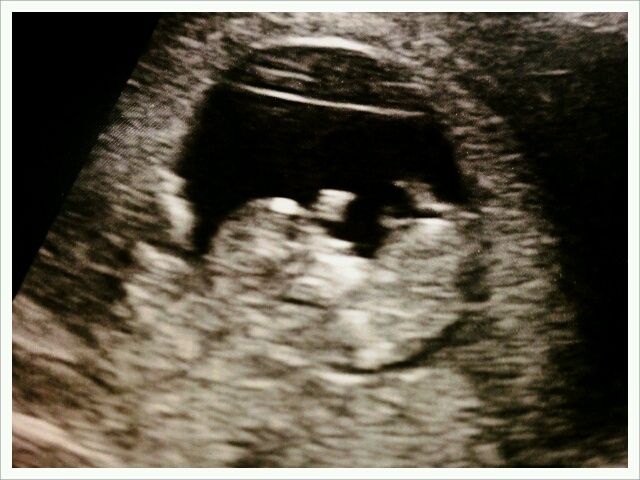 10w3d
Baby lifting its butt into the air: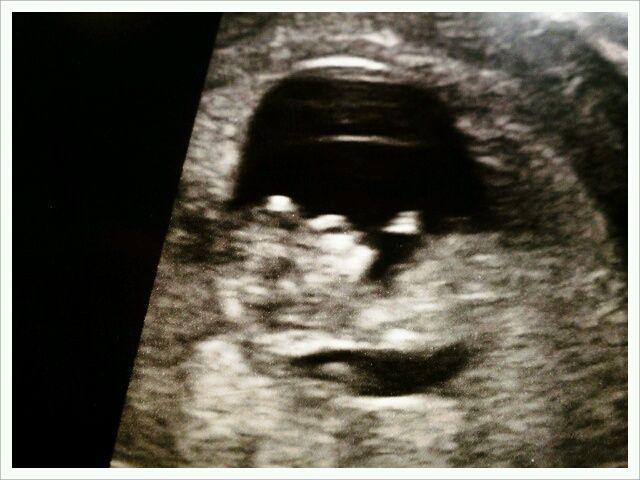 10w3d
Bottom of baby's foot: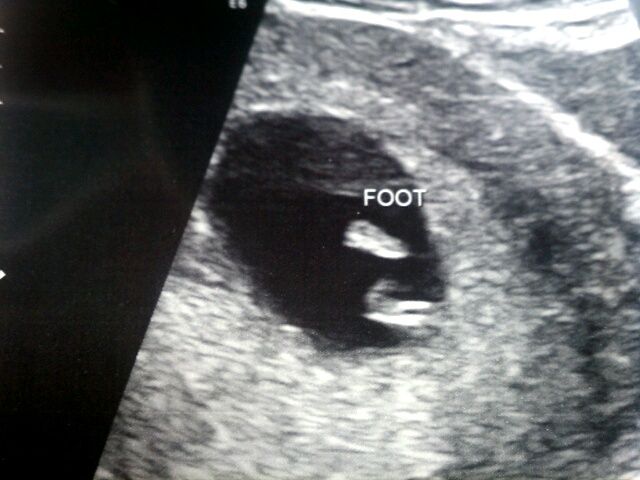 10w3d foot
I know many of you women are thinking "I told you so!"
And you should be! But I was desperate for some peace of mind, and was hoping the doppler would give it to me.
But now the doppler will remain on the shelf until I hit 12 weeks. From what I've read online, a doppler should have no problems at all detecting a heartbeat at 12 weeks. So, I'll give it another go then. But I also have my NT scan at 12 weeks, so I will not be relying on the doppler alone for reassurance.
So there it is. My freakout this morning, and a happy resolution after all. Obviously I'm feeling indescribably more relaxed. I think this will get me through the next twelve days. Here's to hoping, anyway...