The morning following Vomit Day was my NT Scan.
For whatever reason, the days and weeks in between my (
freakout
) ultrasound at 10 weeks and my NT Scan were full of... peace. I did not worry about this pregnancy. I, for the first time, felt comfortable.
It's such a welcome feeling, especially considering what worry the initial stages of pregnancy are like following a miscarriage.
So I went in to my doctor's office, not really worrying about much of anything, other than that pesky (read: fucking awful) migraine that was still slightly lingering.
After getting called back and meeting with a nurse to go over my medical history (I did this back in December... it hasn't changed!), I head back out to the waiting room to await my ultrasound.
Buster shows up right on time, and soon after we get called back. My favorite ultrasound tech is doing my scan, and I'm thrilled!
I hop up on the table, while Buster sits on the bench beside, and we hold hands.
The tech wastes no time (I love her for this), and pulls up baby's heart rate on the big screen. But, no sound, no peaks and valleys on the monitor. Instant terror fills me. She says something along the lines of "little stinker moved", and in half a second, she has the heart beat pulled up again.
And the heart is just thumping away.
Phew.
164 beats per minute. Lovely, lovely sound.
Baby was doing this really funny jumping motion, almost like it had hiccups. I mentioned hiccups, and the tech said it's actually a really common movement at 12 weeks, since they are just figuring out they can move apparently. It was pretty funny, because every time baby would make that motion, his (tired of saying "its", ok??) little jaw would flop open. Like PacMan.
Here's our little PacMan, at 12w1d (measuring 12w2d):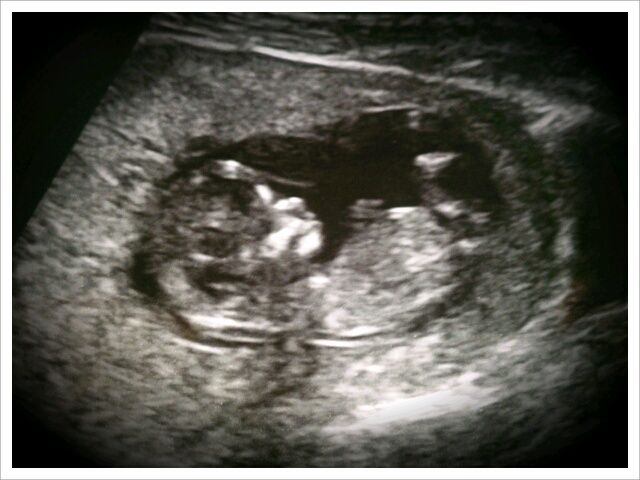 12w1d
Here is yet another photo of the bottom of baby's foot (my tech really likes these pics, I think!):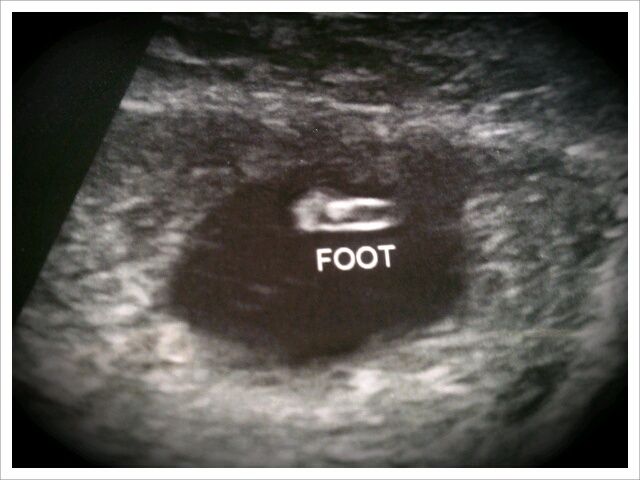 And here is a photo of baby's arm (bent):
So as far as the NT measurements, the fluid at the base of baby's neck measured 1.5, which the tech said was well within normal range, and that it appears we have nothing to be concerned about. The accompanying blood work will not be back for another week, so we will know the full picture then.
After my ultrasound, the tech asked me if I was coming in early for the optional gender scan ($50), or if I was going to wait until the anatomy scan. Of course I'm going in early for the optional gender scan!!!
So, in 3 1/2 weeks (I'll be 16w2d), we will find out if our PacMan is a boy or girl. I am so incredibly excited!