So, here are the choices:
I've had a run of bad luck
I'm that stereotypical clumsy pregnant lady
or... I can kill electronics with a single touch.
I'm going for #3.
Last weekend, I decided I was going to grind it out a little in Call of Duty: MW3. I'm up to prestige level 6, which... if you know nothing about it, takes a lot of time. Yes, I'm a nerd.
So I turn on the Xbox 360. I'm navigating the dashboard, ready to click on "launch" for my game, aaannnnd it freezes. So, I restart. This time, it freezes again on the initial loading screen. So, I restart again.
And then it happens: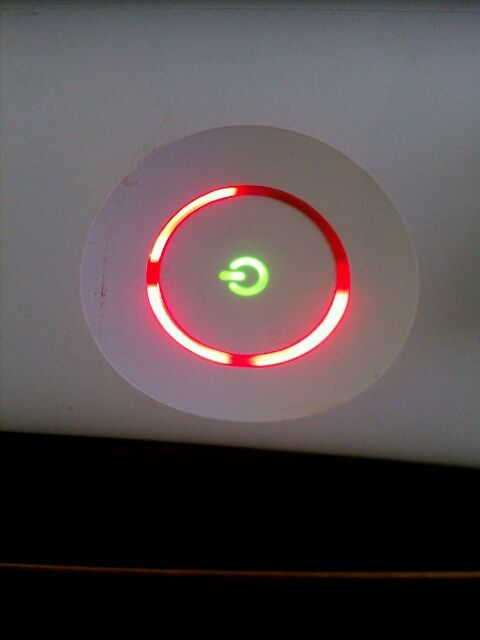 RRoD
The notorious Red Ring of Death (aka the RRoD).
What is a pregnant lady to do when she can't shoot people online? She cries, that's what she does.
I don't want to spend $200 on a new Xbox right now (ok, that's a lie. I want to, I just shouldn't), so I find an online tutorial of how to fix the RRoD. I email it to Buster. We go out and spend $30 on the supplies needed to fix it.
And Buster gets to work.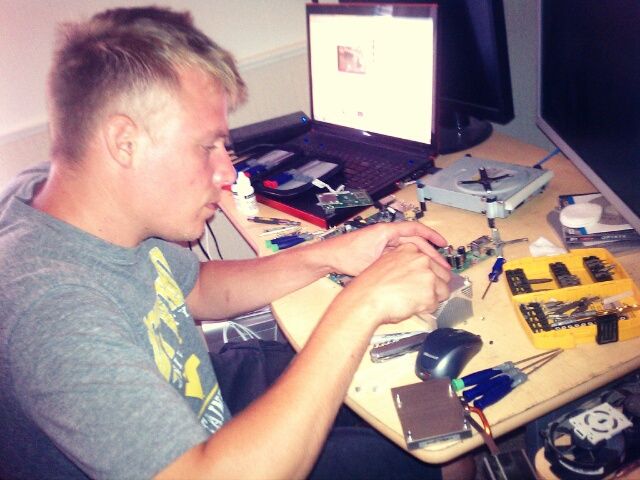 And after $30 of supplies, two hours of Buster's hard work (and sweat, and curse words)... no dice. A different error (not recognizing the disc drive, which requires flashing... something we aren't quite skilled enough to do), and then more rings of death. So Buster chucked it in a garbage bag (yes, we kept the hard drive!), and that as that. No more Xbox 360.
Sigh.
Fast-forward two days. I'm home sick (after the recent
vomiting episode
), and ready to curl up on the couch under a blanket with my Kindle. But I'm also playing around on my phone, and decide to jump up and show something on my phone to Buster. I leave the Kindle on the couch, throw the blanket off of me, and run into the other room.
I come back to the couch, ready to curl up again. I put my foot and leg up on the couch, ready to lay back down. And I hear a crack.
o_O
The Kindle was hiding under the blanket (yes, exactly where I left it. I'm a moron.). And my heel came down on the screen, and cracked it.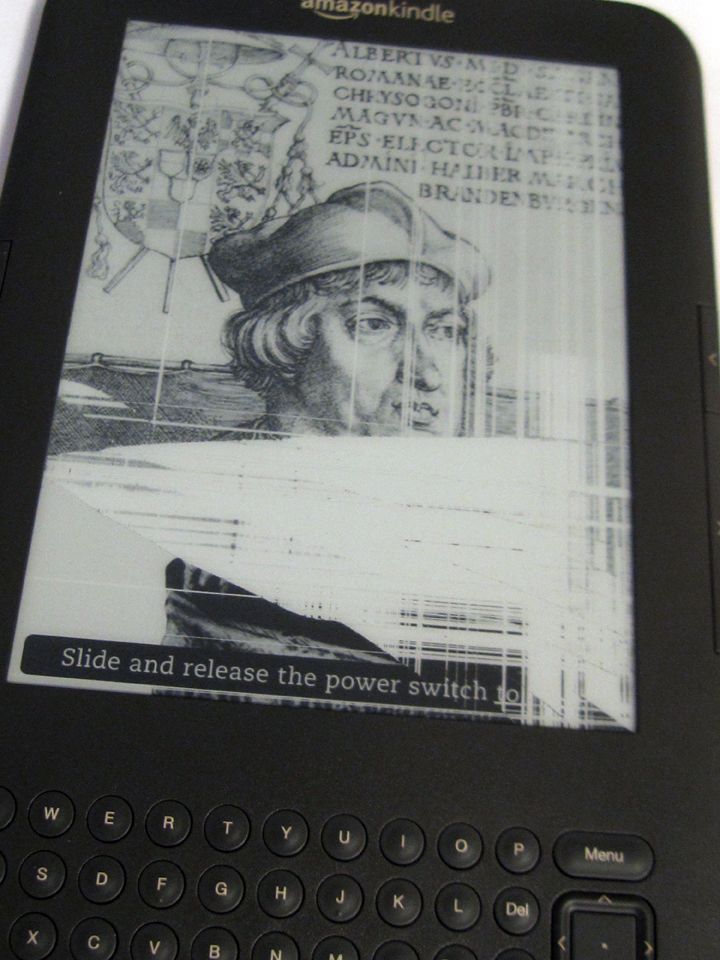 :(
So, knowing that Amazon has amazing customer service...
Wait. Let's stop there. Back up.
I know they have great customer service, because one month ago, I broke my first Kindle. I had that baby for about 2 1/2 years. I took it to the beach, and on one of our final days there I spilled water on the screen, and something very similar to what is pictured above happened.
When we got home from the beach, I called Amazon. I knew my warranty was void (they only last a year), but they offered me a replacement for $60. I'll take it! And I did.
And it took me one month to break the new one.
So, knowing that Amazon has amazing customer service, I called and told them my dilemma.
Little did I know, if you tell the TRUTH of what happened, it voids your warranty. The only way that the warranty means anything is if you LIE about what happened to your Kindle.
"Yeah, I went to turn on my Kindle and the screen was frozen and not working..."
I guess I could have said that. But I'm honest. Which means I have to pay up.
Another $60 for a replacement Kindle. No thank you. I'll go buy a book this time.
Fast-forward to today.
My alarm goes off at 6:00 a.m. I groggily get out of bed. A night's worth of pregnant-hormone-induced dreams have left me feeling incredibly unrested.
I grab my phone and head in the bathroom. I take my phone in so I can check the time as I'm getting ready.
As I'm crossing the bathroom, ready to hit up the toilet, I drop my phone. Face down. In the tiny narrow hard space between two soft, comfy rugs.
Filled with dread, I reach down to pick up my phone (an HTC Evo 4G that I love...), and find this:
:( :(
And I'm officially electronically fucked. The trifecta is complete.

Luckily (??) my phone still works, but putting it to my face is an act of daring all its own. You have to be sure that whoever is on the other end of the call is worth taking a shard or two of fragmented glass to the cheek.

I called Sprint, and apparently I have insurance on this phone (I DO??? Holy shit... usually I turn that down). But it has a $100 deductible.

So, $100 later, my new Evo is in the mail.

I'm afraid to get in my car to drive home from work.

Apparently I'm so new kind of "simpler life" superhero, killing these pesky modern-day electronics with a single touch.

I advise avoiding me at all costs.

You've been warned.