I'm still pregnant! And still on bed rest, although my doctor has now termed it "modified bed rest". Ok, whatever. He says I can go to my grandma's house, or go to dinner, but no all-day shopping excursions. Doable.
I've been checking my blood pressure at home, and it's typically always right around 135/85. Not great, but not awful. Makes me wonder if I was dealing with work stresses, etc, if it would be higher. Bed rest was probably the right call.
And as an update to my last weekly post, the 24-hour urine catch I did came back with the exact same level of protein as the one before it: 310. Still above 300, but not getting any worse. My official diagnosis is mild pre-eclampsia, and I certainly hope it stays mild.
How far along?
38 weeks and 4 days today. I was slacking a little on this update, sorry!
How big is baby?
Your guess is as good as mine! I know he's much, much bigger than he was even a couple weeks ago. And I know this because his punches HURT. Really badly. I think he's trying to punch his way out of my ute. I guess that's what happens when you are cramped and uncomfortable! I have a doctor's appointment on Monday that includes a growth scan, so I will have a somewhat better idea of his size then.
Weight gain?
I should just remove this category. Have hit the 60 lb mark. Impressive, I know.
Belly photos?
Couldn't be arsed to put on the same brown shirt I've been using for my pictures, so that whole "same shirt in every belly photo" idea I had last time is now officially out the window.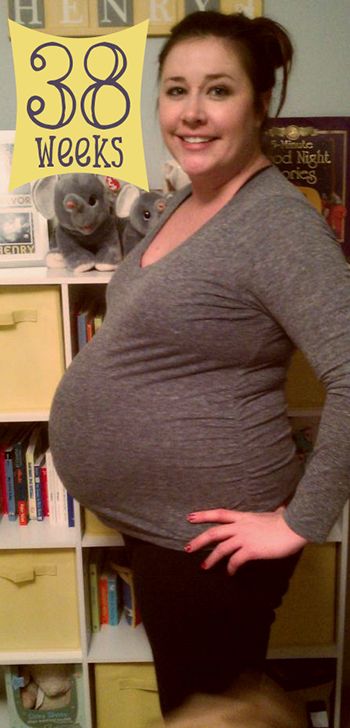 Cravings/Aversions?
Nope.
Sleep?
Sleep has, amazingly enough, gotten slightly better. I'm still waking up (usually around 3:30 a.m.), but I'm able to fall back asleep within an hour. I've also slept in a couple days, since I don't have to go to work. That's been nice.
Symptoms [...of impending labor]?
After the excitement of last appointment (cervical check, finding out I was 3 cm dilated and 80% effaced, the bed rest order), this week seems pretty boring. I had a couple days of decent, sporadic contractions. That excited me. Then it stopped.
At my last NST (this past Monday), I didn't register ONE contraction. Lame!
I've still been losing bits of plug, but my doctor told me I would since I am already dilated to a 3. He said that the plug will regenerate. So basically, it means jack shit.
So no symptoms here. I'm such a disappointment, I know! Apparently baby Henry wants to just keep on cooking. And that's fine. But I really am hoping he arrives by his due date! Which is ten days away...