As you, my faithful readers, know oh so well, I've had a million ultrasounds. Follicle checks, CD3 ultrasounds, even that
rare ultrasound after the IUI
to see the sperm placement. Many of these ultrasounds were unpleasant, either due to a gut full of follicles making the presence of a wand unbearable, or because of the complete stupidity of the
doctor-in-training controlling said wand
.
All of those now cease to exist in my mind.
There is no longer any room in my brain for those lackluster ultrasounds.
Buster and I arrive at my appointment on time. This is the office that force me to coin the phrase "
preggo parade
" because, well, every woman in the waiting room is noticeably pregnant. And back when I was going frequently due to my
LEEP
procedure, it was pure hell. And that's an understatement.
Well, I still had some weird, residual baby-bump envy, but it was nothing like it used to be. I'm just excited to someday have a bump!
I went back first for the medical history/weight/blood pressure portion of my appointment. The nurse asked if I had been drinking lots of water for my ultrasound. Um, no! No one told me I needed to do that! She told me not to worry and brought me a tall glass of ice water. Lovely!
The nurse (who was my age or a few years younger) was incredibly sweet, and I told her that we had been trying for over 4 years. She asked if we did IVF around here, and I explained to her that although we had gone to the one RE in town for quite awhile, I left unsatisfied and unhappy. I told her that we were accepted into a clinical trial in NYC, and that the cost of treatment was free. She seemed more interested than in just a writing-it-on-my-chart kind of way.
After a few more minutes, she came clean that she had been to my same RE for a year, and left unhappy. She is looking in to IVF, but the cost is just so overwhelming. I spent a good 15 minutes talking up my clinic and the clinical trial. I gave her my email address in case she had any questions.
I hope she goes for it. It was honestly the best thing that ever happened to Buster and I, and I would love to help other women battling infertility to achieve their dreams.
But back to the appointment. After the extensive medical history portion, I head back out to the waiting room to wait for the u/s tech to call us back. And after 15 minutes, he does.
And he looks just like Belle's father (Maurice) from Disney's Beauty and the Beast. Identical. Not quite what I pictured for the u/s tech, but ok!
As we head back to the fancy new ultrasound room, I realize that I'm acutely aware of my lack of apparent emotion. I expected to be a big bundle of nerves and worry. I wasn't. But I also wasn't overly excited either, because I just wasn't sure what this scan would show. I was just there.
We head into the room with Maurice. It's a huge room. The u/s machine and table is facing the wall. There is a small loveseat beside the table. On the wall we are facing is a huge flat screen TV.
I didn't know what to do. I expected to be having a vaginal ultrasound. I mean, I'm just barely 7 weeks along. Admittedly, I did not research at what stage they can do the ultrasound on the belly (no idea what this is called, by the way).
I am just standing there, looking at Maurice. Buster has taken a seat on the loveseat. Maurice finally turns around and tells me to hop up on the table. He tells me to lie back, lift up my shirt and unbutton my pants and fold them down a bit. Well aren't you forward, you little scatterbrained inventor, you?!
I reach for Buster's hand as Maurice squirts that warm gel on my stomach (get your head out of the gutter!). I glance over at Buster out of the corner of my eye, and he's trying not to laugh. I am too, but probably not for the same reason as Buster. If I laugh, I'm pretty sure I'm going to pee.
Maurice starts looking for baby. I anxiously watch the screen. Remember how I was feeling a lack of emotion walking into the room? All of the sudden I'm flooded with panic and fear. I see my giant bladder. Then, I see my uterus. With something in it!
He zooms in and centers my uterus on the screen. Then he zooms in again and does some measurements. I'm still not even sure what I'm seeing. I know there's something there, but the only thing that is really catching my eye is a big round empty thing, and I don't think that can be good news!
Maurice doesn't speak during this time. He's concentrating, and I let him. He does another zoom-in, and I see the fluttering of what I can now assume is my baby's heart.
Tears start streaming down my face.
Our baby has a heart, and it's beating!
Maurice pauses the shot, then pushes some button and the sound of our baby's heartbeat fills the room.
Amazing.
I try stealing a glance over at Buster. I think his eyes are watery, but I didn't look at him too long. It was very difficult taking my eyes off of that screen for a split-second!
But Buster is squeezing my hand, and I know that means he is happy and excited.
Maurice tells me that I am measuring 6w5d, which is a couple days shy of where I had myself. He mentions that it's perfectly normal to have a little variance. We finish up, and Maurice hands me some photos of our little peanut.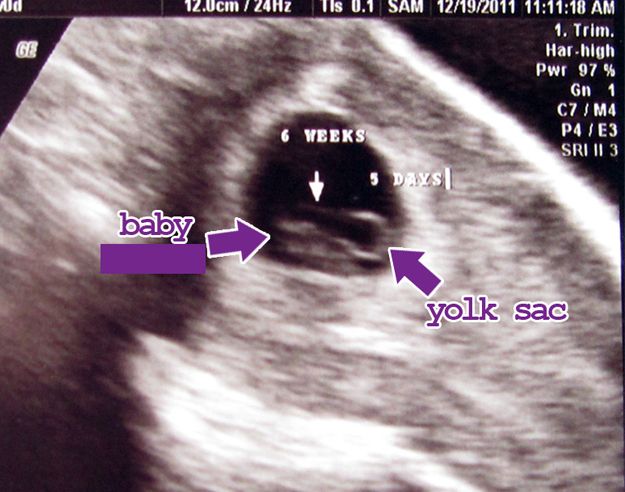 Baby's second photo!
It was an amazing experience. And it's one that I never really pictured myself having. Buster and I are on top of the world.
___________________________
We moved this past weekend. It was an exhausting couple of days. I'd rather never move again. And we are trying to get ready for Vegas as well. We leave tomorrow morning, and we have so much to do before then. I'm so ready for a few days of relaxation. And I am more than ready to deliver Christmas to a family that deserves it!