I have emerged from the depths of "woe is me" and am currently basking in the hope of an upcoming cycle.
For Easter, I got my period. And I was completely fine with it.
I have not had a normal cycle (28 or 29 days) since the miscarriage. Until now. Even though last cycle was only 27 days, I'll take it. Closer to normal.
I went in this morning for my CD3 blood draw and ultrasound. Once the ultrasound party got started, I instantly knew this cycle would be better than last.
No cysts! First time post-miscarriage. I'll take that as a good sign.
My hormone levels are "great":
FSH - 5
E2 - 56
LH - 3.3
FSH - 5
So, it's looking like my next FET will be the last week of April.
And I'm excited. Once again.
It's amazing how quickly I can bounce back after heartache when I have something to look forward to.
______________
Something else I'm looking forward to: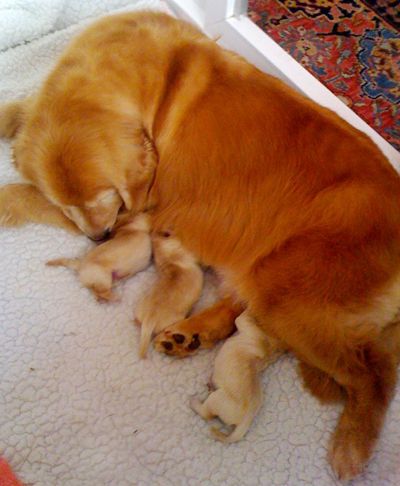 One of those is my new puppy! They were born this past Friday. Three big, healthy puppies. I'm in love and I've only seen their cute little butts!
The litter consists of two girls and one boy. One of the girls is already promised. Additionally, the breeder will be keeping one of the pups for a show dog. She will make that decision when they get to be 7 or 8 weeks. So, until then, we won't know if we are getting a boy or a girl. I'm happy either way, honestly!
I will keep you updated with photos as I get them.