This is no April Fool's joke: my SIL is pregnant.
Her second cycle trying. The first cycle resulted in a chemical.
Let's rewind the clock. New Year's Eve 2011. I was pregnant (but only for another day and a half) and happy (but only for another day and a half). She confessed, while sitting around a table of women, that she and my BIL were going to start trying. Even though I was pregnant, the pang of jealousy that hit me was shocking. And left me feeling embarrassed and ashamed.
Perhaps subconsciously I knew. Knew how things would work out. The way they usually do.
I reached out to her after the chemical. It was a little awkward, our very different situations. I had just experienced my miscarriage and D&C after 4.75 years of trying. And she had experienced an early loss while just getting started, which I'm sure is ridiculously confusing.
Last night, I heard all about her food aversions. And all her other symptoms. And how they aren't sure on a name.
FIL suggested "Marshall". My head snapped to look at Buster so quickly, it was like I was being fast-forwarded. That's the
middle name we have picked out
for our someday-son.
But that's one of the many shitfucks of infertility. You can pick out all of the damn names you want, but you have no right to those names. Not until you have a reason to use them.
Even though it may not sound like it, I am incredibly happy for them. I wouldn't wish the curse of infertility on my worst enemy, let alone my family!
Everyone here last night (MIL, FIL, BIL, SIL) was aware of our recent trip to New York. Even though I only told MIL, word gets out. They knew why we went. So there was a ton of talk last night about SIL and I being pregnant together, and maybe being in the hospital at the same time (even though the numbers aren't quite right for that).
At one point in my life, all of that talk would have been exciting to me. But last night, I was terrified. Scared shitless that this won't work for me, and how I will handle her pregnancy (I sound so selfish, I know) while trying to reign in my own emotions.
I fear that infertility has poisoned me.
After everyone left, I cried while attempting to explain to Buster how I was feeling. He didn't really get it, and was a bit upset with me for being negative.
It's just so hard. All of it.
_________________
And now for the specifics. Here is a
link to my 3dp6dt post
from last FET.
Symptom check:
Not too much of anything. I had a really restless night's sleep, however. I woke up at 2:15 a.m. and realized I had to pee. But the urge to pee isn't what woke me up, I don't think. So I'm not counting that as frequent urination. I did have some vivid, scary dreams. And that makes me nervous, since that was not something that happened last time around. I know every pregnancy is different, but I can't help being nervous.
Oh, "symptom" I just remembered. Last evening, I had a tiny bit of pinkish-tinged CM (and TMI, but when I say "CM", I most likely mean progesterone leakage). Not sure what that's all about. I didn't have it last time. It's only CD21, so too early for AF.
And as I've been working on this post, I now feel the start of a headache. I hope it doesn't turn full-fledged, as the only thing that helps is a large quantity of Ibuprofen, which is off-limits right now. I've also had a little bit of that queasy feeling. Bbee commented on my post yesterday and mentioned feeling hung-over, and that's pretty much what my stomach feels like!
Pee stick check:
It seems that this time around, the booster shot may be leaving my system faster. I am drinking a lot more water than I was during FET#1, so perhaps that's why? I might be forced to start using the FRERs tonight! We'll see...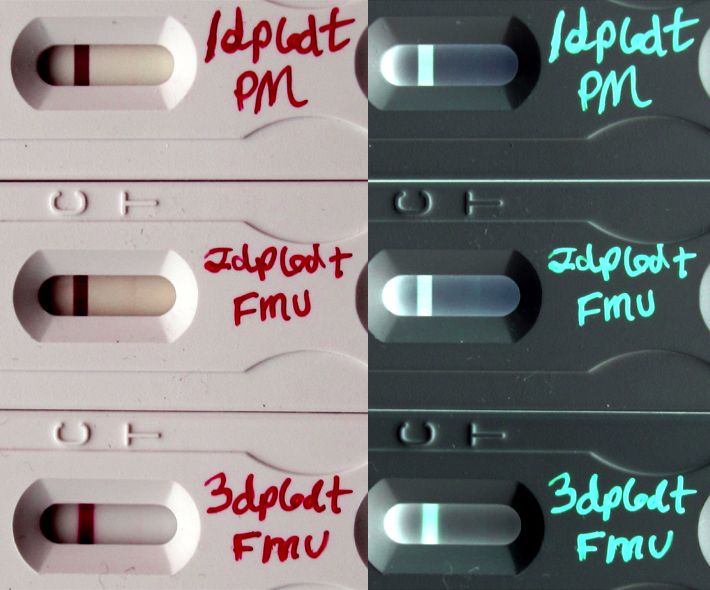 Click to make me bigger!
_________________
4 days until beta!
_________________