First, thank you all so much for your kind words after yesterday's post. Infertility is hard enough, then when you pile on feelings of guilt and shame, well you get the picture.
Yesterday and today are the hardest days of an FET for me. I go back and forth constantly, thinking one minute it worked, and the next it didn't. I'm hoping that I will be getting a confirmation of BFP tonight or tomorrow.
In related news, the mommy dog who is pregnant with our new furry arrival is having an ultrasound today! How exciting is that? This will let us know how many she is pregnant with. She is due April 10. I can't wait to see the pups!
______________
And now for the good stuff. Here is a
link to my 4dp6dt post
from last FET.
Symptom check:
This is the second day in a row that I have had a dull headache. I felt it coming on yesterday morning, but it never fully developed into the extremely painful migraines I'm accustomed to (which usually announce the arrival of AF).
My stomach has also been feeling a bit queasy this morning. I even got that (TMI) rush of spit in my mouth that happens prior to throwing up. But, thankfully, it stopped there. The combination of dull headache and queasy stomach is really screaming hangover to me, like BBee mentioned in a comment a couple days ago. I hope I'm not just tricking myself into thinking that I'm having a symptom.
Last night before bed, my stomach was grumbling. And I shouldn't have been hungry. So this morning when I woke up, I was absolutely famished. I know this is a common side effect of the Dexamethasone, but it seems to really only have started yesterday (and I've been on the steroid for a week now).
And finally, last night I had a bit of cramping while laying on the couch watching Game of Thrones. It was brief and not really like AF cramps, but also not gas pains or anything like that.
The absence of one symptom has me a bit worried, however. Last go around, early on I started waking up in the middle of the night to pee. Obviously that is a good symptom, and one that is common in pregnancy. This hasn't happened to me this time around. Does that mean I'm doomed? I'm sure that not everyone gets that symptom early on, right?! It's hard for me to not be worried, since I had it last time around and I was in fact pregnant.
edited to add: One other symptom that I forgot. The past couple nights, I've been getting sooooo sleepy at about 8:30 p.m. Last night I stayed up until 10:30, and it was not easy!
Pee stick check:
I decided to start using FRERs last night. The dollar store tests are just not doing it for me this time around. Last night's line on the FRER was really pretty, but I was pretty certain it was the remaining hCG from the booster shot. And this morning's FRER proved that theory right. Today's line is barely there. Almost undetectable. The booster is practically gone, and I hope to start seeing darkening lines very soon.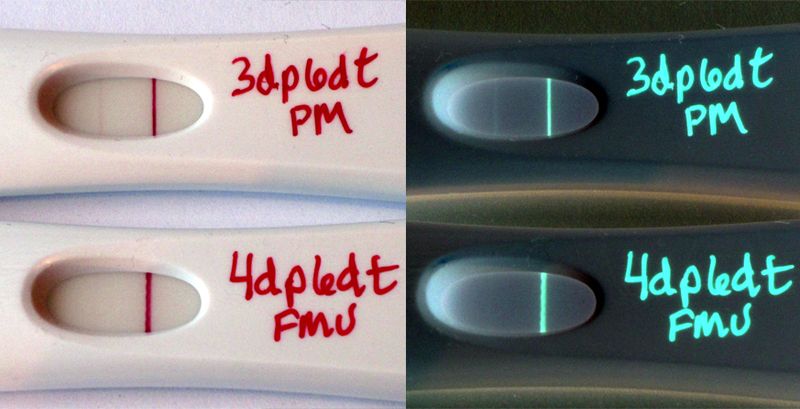 I will be testing again tonight, so we will see...
______________
3 days until beta!
______________