Another day (practically) down. I am so anxious for Black Friday, and for nothing to do with shopping! I'm not even upset that I am working that day. I can't think of anything other than 8:00 a.m. on Friday = Beta.
I also want to mention here again that on transfer day, 4 days ago, I received an hCG booster shot. I finally got the dosage confirmed by my clinic. It was 600 units of hCG.
Trigger shots I've received in the past have been 10,000 units, and have lasted in my system for 8-12 days.
Given the above data, I feel pretty confident that by tomorrow morning the booster shot should be gone.
So, I guess tomorrow, there will be one of three things happening:
I will get stark white BFNs, and I will know the booster is long gone. I will try not to despair, and hope that a line comes back.
My lines will be darker, which will indicate that my body is starting to produce its own hCG.
My tests may look exactly the same. And I won't know shit.
Symptom check:
I woke up at 4:30 a.m. unable to go back to sleep without emptying my bladder. I NEVER have to get up in the middle of the night to pee. NEVER. So, this is odd.
Tonight I'm having some realllllly slight AF-like cramps. Not even cramps. Like pangs. This just started about 30 minutes ago, and I'm liking it.
Especially after having zero symptoms all day. I had pretty much given up earlier today. Funny how a couple little twinges is enough to give you your hope back!
Pee stick check:
I have peed on sticks twice today!
This morning, my $ tree and 88 cent Walmart test were lighter than yesterday's.
At lunch, I went out and purchased 2 boxes of 3-pack FRERs, and a box of EPT digis. So, for PM pee, I used a FRER, a $ tree, and an 88 cent test.
The PM Walmart test showed nothing. The PM $ tree test is lighter than this morning's. The FRER is beautiful, lol.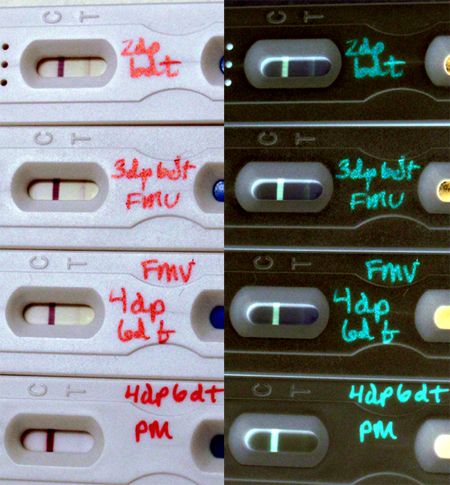 $ Tree tests. 600 unit hCG booster shot on day of transfer seems to be practically gone.
PM FRER


Obviously I'm really hoping the FRER tomorrow morning is darker...
3 days until Beta!