I went in for blood work this morning at 8:00 a.m. Hoping to hear from my clinic in the next two hours.
On a medication note, I stopped taking baby aspirin and have started Lovenox. Um, ouch. Lovenox SUCKS. So badly. I was expecting something similar to that of a Follistim injection. Wow, I'm naive.
My first attempt at jabbing the needle into my stomach didn't work. I wasn't applying enough pressure for a thicker needle than I was used to. So the actual injection hurt, the medication burned, and then it bled. And was sore for 10 minutes after.
Thankfully, I have gotten some helpful tips on how to make it more tolerable. Hopefully tonight it goes better.
From what I understand, I will be taking it for at least the first 12 weeks. I hope to learn more when I hear from my clinic today.
Symptom check:
Today is CD29, which is typically CD1 for me. No spotting or anything!
I'm still having bouts of nausea, and still have to pee more frequently. Last night I had a couple light cramps that were close to AF cramps, but not quite as severe. It worried me a bit, but my sticks were even darker today, so I feel better!
I also noticed myself getting tired out more quickly. I ran a bunch of errands yesterday morning, and by the time 10:30 a.m. hit, I was ready to curl up on the couch.
Insomnia has started to kick in a bit. Yesterday morning I woke up at 5 a.m. and could not go back to sleep. Last night I got really intermittent sleep, and was up practically every hour.
Pee stick check:
Still loving my sticks! This morning's was beautifully dark. I think I'm about done POAS!
My FRERs: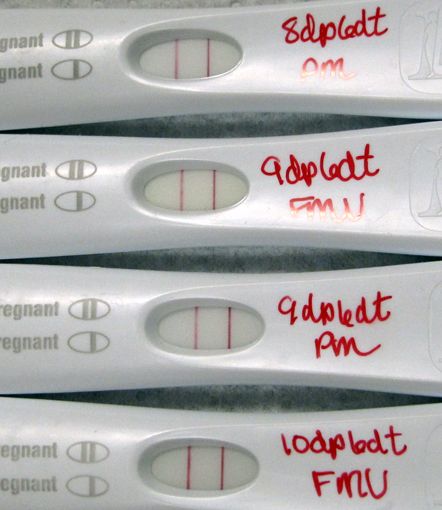 And the Answers: