Welcome ICLW'ers! I realize my "welcome" post is a bit late, but it was a hectic weekend and a busy Monday!
My birthday celebration on Saturday night was great fun. Buster and I relaxed all day on Sunday, and it was a perfect way to recover from an exhausting weekend!
And in big news, we have officially decided to head to NYC on my next CD3 to get the clinical trial under way! There is no reason to wait, we have decided. So, the plane tickets are booked! We are only going to NYC for ONE DAY... we arrive there at 7am, and leave at 9:30pm. This means I will not have to miss any work, which is crucial.
The whole booking a plane ticket thing is kind of nerve-wracking. What if AF doesn't cooperate? Typically my cycles are pretty spot-on. 29 days, give or take a day or two. Luckily the "CD3" testing can actually be done CD2-5, so that gives me a little room to breathe. It is still stressful, though! But I don't want to stress, in fear that would delay AF! Argh!
__________
Here is what Buster
made
me for my birthday: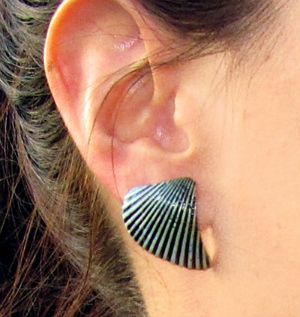 Yep, you read that right. He MADE those for me! They are shells that he found while we were at the beach back in July. They were actually full-size shells that he shaped into beautiful earrings! He painted them, then removed the paint, allowing it to settle into the "cracks". I can't believe he is so thoughtful and creative! He thought of the idea himself! I love that man! <3
__________
If you recall in a
post from a couple weeks ago
, I am helping to film some footage at my company's new ultrasound facility. Thankfully since then, they have recruited a *real* pregnant lady to play the part of the pregnant lady. I am officially off the hook!
I will still be helping to film (operating a camera). I have been informed that they have a pregnant couple coming in with their toddler son. The son is going to be able to see his little brother for the first time (on the screen). We need to capture this magical moment.
Just gag me already!
Yes, this situation will be easier since I am not forced to pretend to be the me I wish I was, but this will still be difficult. I will still struggle. But now that my NYC clinical trial plans are underway, this won't sting quite as much.
And for that, I am thankful.