I planned on doing a "part two" post last night, but never got around to it. Our air conditioning is still down, and when it's 83 degrees inside, I don't want to do anything!
Also, because it's so hot in the house, it's incredibly difficult to get a long hold with no fluids. I peed in a cup three different times last night before I finally dipped a stick. The pee I ended up using was still a light yellow, but it was too late to try for another hold.
Unfortunately, the stick didn't look too good. Sure, it was a nice line. But it was way lighter than the earlier sticks. So I went to bed feeling a bit down.
This morning, both my FMU and SMU were darker than the previous night's stick, but not darker than yesterday's darkest test.
Yes, I realize I sound crazy.
I don't want to worry. I really don't. But it's impossibly hard not to. I want to be naive and blindingly optimistic. I really do. But I can't.
Symptom check:
A headache started knocking on my brain last night before bed. I hoped overnight it would go away, but that nagging "pre-headache" feeling was still there when I woke up.
I also had a lot of queasiness today. To the point that the queasiness coupled with the headache has made me feel super hungover all day. And I believe this to be a promising sign.
Pee stick check:
I pretty much said all I wanted to about pee sticks up above, so I'll just post the stick: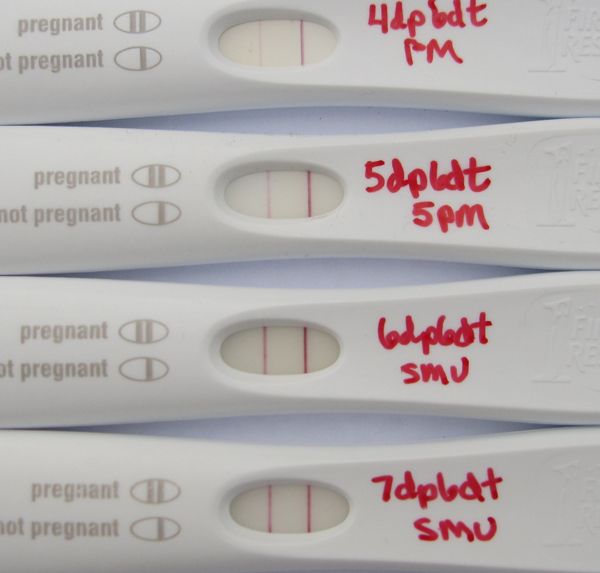 I was really hoping it would be darker. But, I can see that the test from this morning does not have as much dye as the one from the day before. It was from a new box, and I'm hoping that has something to do with it. It is still a really pretty stick, and so much darker than my first pregnancy's 7dp6dt stick.
And since
Kelly
asked, I will post my sticks from my first FET, the one that kind of worked: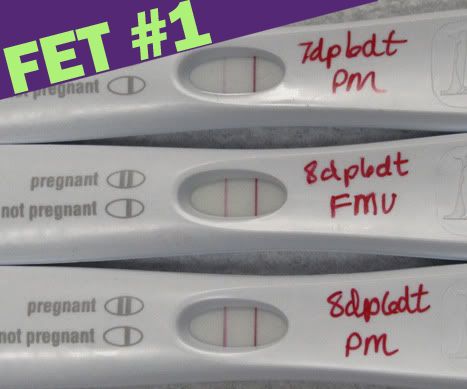 FET #1 back in November 2011
And finally, I did pee again tonight. Again with diluted pee. And it's MUCH darker than last night's diluted-pee stick. That's good, right? I'm crazy and worrying for nothing, right??
Sigh.
____________________
11 hours until beta!
____________________