Another hurdle, that is.
Today we had our 7-week ultrasound. And things are wonderful!
Based on my date of conception (thank you, IVF, for the specificity), today I am 7w1d pregnant. My little spawn is quite the overachiever, however, and measured 7w4d, with a heart rate of 144 bpm.
The ultrasound tech said that everything looked great. She said that at this point, they like to see a heart rate over 100, but really prefer it to be 120-180. I fall within that range, so that makes me happy.
A couple other things that make me happy:
At my 7w ultrasound during my first pregnancy, baby was measuring a couple days behind, with a heart rate of 130 bpm. Given today's numbers, I'm feeling really positive about this pregnancy.
Basically anything different and better than last time around is reassuring to me.
Next week, I will have another ultrasound. I won't be going to my normal doctor's office, however. We will be at the beach, so I've scheduled an ultrasound at a fertility clinic there. It's about an hour drive from where we are staying, but it works out fine because Buster wants to drive around and look for fireworks anyway. So, we'll have a break from the sun for a day and hope the good news streak continues while on vacation.
And finally, here's a picture of our baby (it's a photo of a photo, so I apologize if it's not the best quality):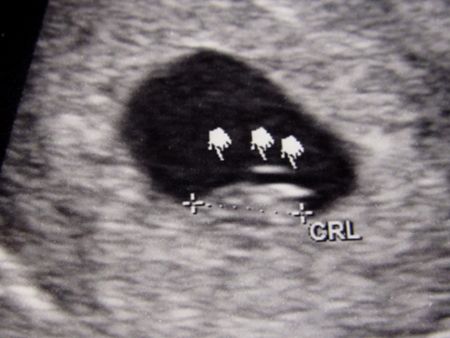 7w1d ultrasound; measuring 7w4d
It doesn't show much, but you can see where the tech measured from crown to rump. I'm hoping for a nice improvement on size next week :)