I spent the weekend alone in New York City.
And it was lovely!
My friend (who is in the clinical trial with me... and she's pregnant!) drove in to the city and met me for dinner the first night I was in town. She lives close to the city, so I asked her to pick the restaurant. She chose this quaint little Italian place, and was it ever delicious! I got a goat cheese and beet salad to start with, followed by short ribs and braised cabbage. I also had a glass of Prosecco. My thinking was that I won't be able to enjoy any alcohol for the next year, so I might as well indulge while I can!
Image courtesy of Gallo Nero.
We had a lovely evening. We checked out a couple boutiques, some grocery stores (the grocery stores in NYC intrigue me), and then headed back to where I was staying so she could pee (she is pregnant, remember?!). We chatted for quite a while, and then she headed home. It was really wonderful spending time with her!
Dessert display case at a grocery store in Manhattan.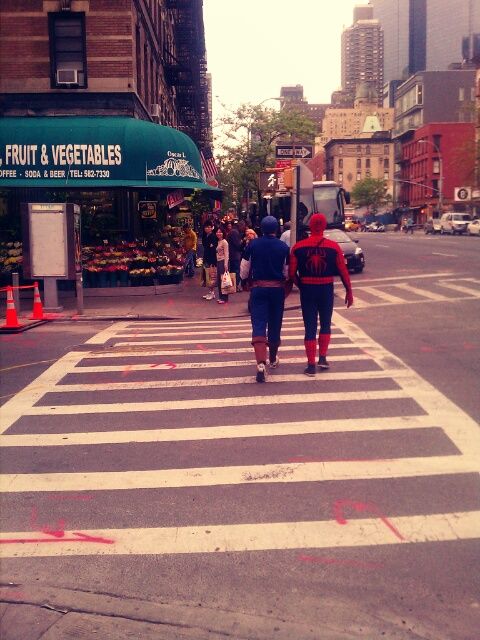 One of the more amusing sights we encountered....
The next morning, I headed to the clinic around 8:00 a.m. My transfer was scheduled for 9:00, and they ask you to arrive an hour early. To my surprise, they actually called me back around 8:30 a.m.
Typically, the nurses there aren't overly receptive to my small talk. I'm overly polite and friendly. I stand out like a sore thumb in NYC because of this. Yet even with all the rebuffs I've gotten in the past, I still try to have polite conversation with whoever is around me. I'm a masochist, remember?
This time, the nurse was incredibly sweet. As she took me back to the operating room (after I had on the GORGEOUS pink robe and blue booties, with matching hairnet), I mentioned that this was my third transfer. She instantly looked sad for me, and told me she was sorry. I appreciated her sentiment. We also discussed her home country, and how she misses it. Soon after, the doctor and embryologist come in.
This was my first experience with "The Wizard". Yes, that is what they call this doctor. My first two transfers were done by his colleague, Dr W. Don't get me wrong, Dr W was quite nice, but not incredibly personable. The Wizard is a different story. He came in, friendly and chatty. He told me that this is going to be the one, and that we were close before.
I mentioned that the first time it worked, but I suffered a miscarriage. He asked me if I had testing done to know what caused the miscarriage, and I informed him of the diagnosis of Monosomy X. He proceeded to tell me that it was bad luck, and this time it's going to work.
While he was prepping, he asked where I was from, and what I do. I told him I'm a graphic designer. He smiled, and asked what I thought of the clinic's logo. I told him I really liked it, and I thought it was peaceful and pleasant. He apparently helped design it. I told him maybe he's in the wrong profession (I'm always cracking jokes, ya know?). He laughed.
Then he got down to business. After the dildo cam was inserted, he turned the ultrasound monitor so I could see what was happening. He pointed out the catheter, and explained to me that he was navigating his way to the uterus. Dr W never did this for me. Needless to say, I was very appreciative.
The Wizard really took his time navigating. Finally, he got to where he wanted to be and injected the embryo. I saw the little white fuzz of a dot on the screen. It was really wonderful.
And then we were done. He told me he doesn't want to see me again, and I told him the same. We laughed. On his way out, he said maybe I could train him in graphic design. Laughing, I said perhaps he should be training me. He then said we could swap, he'd train me in embryo transfer, and I could train him in design. Sounds like a great deal for me, right?
During the procedure, he told me several times that my lining looked great (whew). And he also told me that my embryo looked great, almost as good as me. Flattery gets you EVERYWHERE, Wizard. Thank you.
And here we have #3:
Like #1 and #2 before it, #3 is a 6-day blast.
After resting for a half an hour, I headed back to my place. I packed up, and headed to the hotel I was staying at that night. It was a lovely 3 1/2-star hotel in Times Square. Excellent location! Too bad my only goal for the day was to rest!
I did ask the bellhops at the hotel if they could recommend a good restaurant for lunch. I was craving something a bit exotic, and they recommended a Thai restaurant close by. It was the best meal I had this weekend. I ordered Pork pad Thai, and wow. I was not disappointed.
Pork pad Thai
It may not look that exciting, but it was beyond amazing. I ate every last bite. And because I was having a "me" weekend, I ordered dessert: Thai Pumpkin Coconut Custard. It was quite yummy, but I have a thing with textures. And so custard may not have been the best bet. I still ate half of it!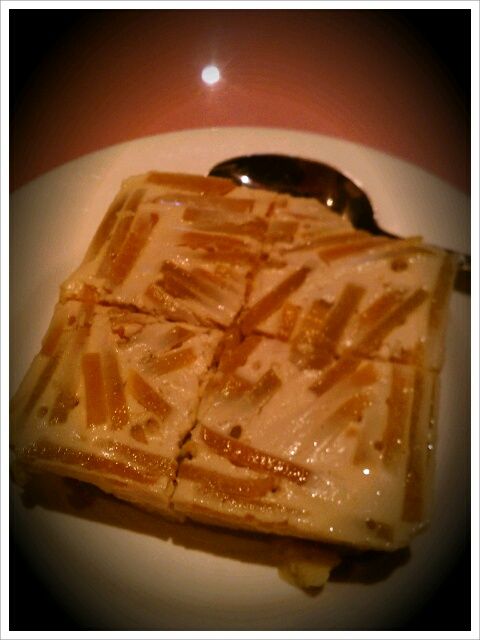 Thai pumpkin coconut custard
On my way back to the hotel, I stopped and watched some street performers breakdancing and flipping. I hadn't seen street performers in NYC on any of my trips thus far, so that was fun.
I headed back to the hotel smiling and feeling wonderful about my day.
I holed up in my hotel room for the remainder of the day and night. I texted some friends, played Scramble With Friends with Buster, and read my Kindle. It was relaxing. I ordered pizza delivery for dinner:
That was the small! I felt bad letting so much go to waste, but they didn't deliver pizza by the slice. I also ordered a piece of New York Cheescake: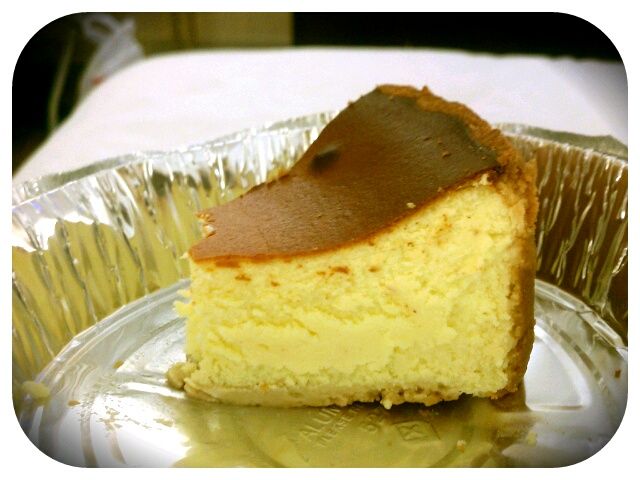 Oops, I forgot to take a picture before I took a bite...
Both were good, but not great.
The next morning, I hit up breakfast in the hotel restaurant, and took my time. My flight didn't depart until 3:00 p.m., so I had quite a lot of time to kill. I ended up going to the airport super early and just lounging. I listened to my IVF Meditation track on my iPod, which was nice.
I made it home safely around 6:30 p.m. last night.
All in all, it was a wonderful weekend. I thought I would be lonelier on my own, but it really wasn't too bad. It was a nice, relaxing trip.
My beta is scheduled for Monday the 7th. As you all are aware, I test early and often. At least I usually do.
For some reason, however, I don't feel the urge to test this time. I know I"m only 2dp6dt, and it's so early. But I have no desire to test out the hCG booster shot. We'll see how I feel on a day-to-day (hour-to-hour?) basis, but for right now, I'm perfectly content with not testing.