I'm not feeling overly creative today, so I'm just going to get right to it.
My transfer was yesterday at 8:00 a.m. Everything went well, and pretty much just like last time. The doctor shook my hand after he (hopefully) impregnated me, and wished me luck.
I got an hCG booster shot in the ass, and reclined for 30 minutes before heading out.
Here is a photo of our soon-to-be baby (too hopeful?!):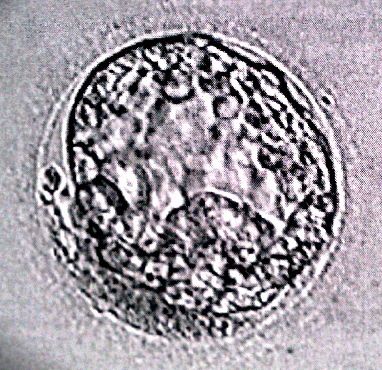 Frozen baby v2.0
We transferred a day-6 expanded blast. I'm no expert at knowing what I'm looking at when it comes to photos of embryos, but I think it might be starting to hatch. That's what I'm assuming the double-outside-ring is (on the left side... see it?). But who knows! And sorry for the poor quality photo.... it's a cell-phone picture taken of a black and white computer print out.
I'm on Crinone twice daily, Dexamethasone 0.5mg once daily, baby asprin and a prenatal. If I have a positive beta, I will switch from baby aspirin to Lovenox.
My beta is on Thursday, April 5. I will start testing tomorrow. I will test out the booster shot, and then hopefully watch the lines get darker as my little embryo gets comfortable.
I'm feeling hopeful, but not that excited. I think this is probably normal, given all I've been through. I'm preparing myself for both outcomes, but trying to stay positive.
It's going to be a long week.