Obviously I am more than excited regarding my upcoming IVF cycle.
However, there is one thing right now that is weighing on my mind. And no, it's nothing earth-shattering or jaw-dropping. It might even be completely inconsequential. But, it's still there.
I made my first "local monitoring" appointment at my former RE's office. It is scheduled for next Friday.
There is a HUGE part of me that is incredibly excited, because this is the beginning of the next step. And I can't wait for the next step.
When speaking with the receptionist at my former clinic, I asked her who I would be seeing for my ultrasound. She responded with the name of my former RE.
Cue heart dropping into my stomach.
I realize I'm being a baby. I realize that people move on from clinics and to new doctors all the time.
But... do they have to face their
former RE
again? Naked from waist-down, vulnerable, and hoping that there are no hard feelings?
I'm having irrational thoughts of sabotage on the part of my former RE/clinic. This is crazy, I know. And I'm kind of crazy right now. I'm taking hormones, FFS! I HAVE AN EXCUSE!
Ahem.
Ok, enough of my neurosis.
There is another doctor at my former clinic, and I could see him instead. But, he's young. Inexperienced. Douchey, even. I guess I'd rather face an awkward 15 minutes with my former RE, who is older and wiser (??) than risk it with the young doc.
I'm contemplating not even publishing this post, because I know I really sound like a lunatic at this point.
Can't wait for the 10 days of Clomid...
__________________________________
So, as you have gathered by now, I like reality TV "game shows". I like to think there is a distinct difference between the competition shows and the ones that follow around a bunch of idiotic bimbos (yes, bimbos! I'm now 80 years old, and use words like bimbo), who are famous only because their parents are rich or because they married a professional athlete.
I especially love the reality shows where something has to be created (Project Runway, Face Off, Chopped, etc).
But to the point: Buster and I have started watching the new season of The Amazing Race. First time I've seen this show, and I LOVE it! I have no idea what took me so long to give it a try. Especially considering my obsession with Survivor.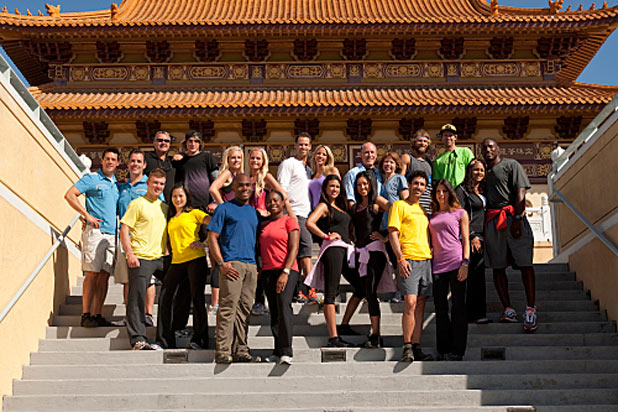 © CBS
The biggest factor in me wanting to watch it is that two former Survivor winners are competing: Ethan and Jenna. I like both of them very much, and I hope they win. They seem like good people.
Any other fans of The Amazing Race out there?